Restore Vaginal Function With The MonaLisa Touch® Laser Treatment
MonaLisa Touch
Vaginal dryness, itching, burning, pain with intimacy?
Fractional CO2 laser therapy rejuvenates the vaginal walls to restore functionality and revive hydration, tone and sensitivity.
Are you breastfeeding, going through menopause, or undergoing cancer treatment? If so, you may be suffering from vaginal dryness and discomfort from decreased estrogen levels. This can have a negative impact on your day-to-day activities, vaginal health, sexual wellness and quality of life. You may find yourself experiencing burning, irritation, painful intercourse and even an increased urgency/frequency to urinate and urinary tract infections. Find hope with our non-surgical MonaLisa Touch® laser treatment.
More than 50% of post-menopausal women and breast cancer survivors have atrophic vaginal changes.
VAGINAL ATROPHY?
The female hormone estrogen, which is produced by the ovaries, plays a vital role in keeping vaginal tissues lubricated and healthy. When levels of estrogen are low, vaginal tissue becomes atrophic — thin, dry and shrunken. During and after menopause and with breast cancer treatments, estrogen levels decline and the vagina changes. The walls become thin and narrow. Millions of women experience vaginal dryness, itching, burning or painful intercourse. Many women suffer silently, and those who seek treatment find their options limited: messy estrogen creams or other lubricants.
Improvements in:
Vaginal moisture
Vaginal tone
Vaginal sensation
Sexual satisfaction
Reductions in:
Urinary leakage
Painful urination
Vaginal itching
Bladder infections
LASER PROCEDURE
Gentle laser energy is delivered to the vaginal wall that stimulates a healing response and enhances moisture levels in the vaginal canal. A typical initial course of treatment is three procedures. Many women report symptom relief after the very first treatment and even greater improvement after the second and third treatments. A single treatment annually is required to maintain results in most women. Earlier interval treatments can be performed as needed and the treatment only takes a few minutes to perform and is painless.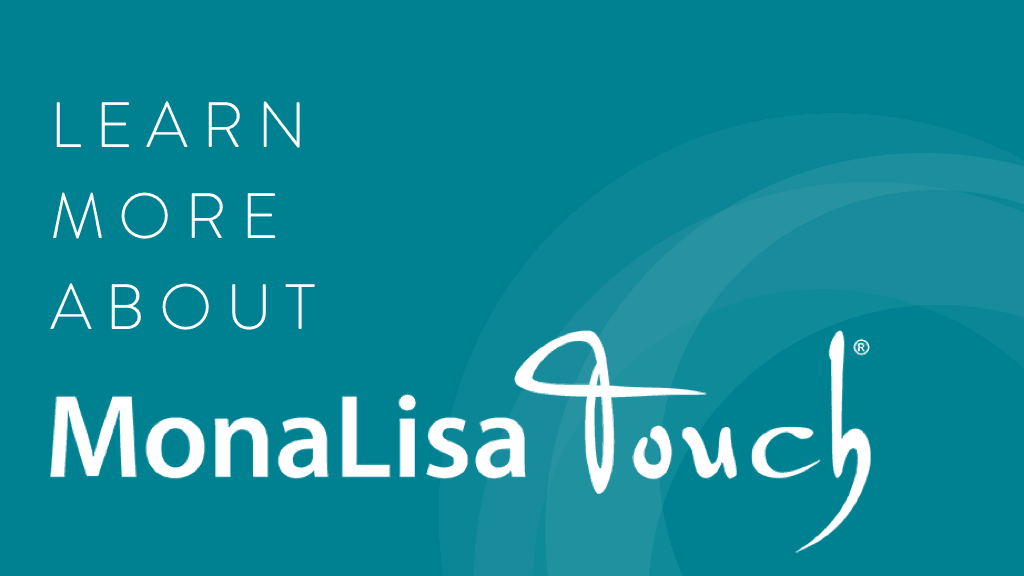 There is a warm and welcoming vibe starting in the lobby. The staff is super nice and attentive. I've met both providers (Heather & Julie) who are incredibly relatable, knowledgeable, passionate about women's health, and treat you with respect. After 1 treatment of the Mona Lisa, I've seen substantial decrease in/to no urinary stress incontinence. Major confidence boost! I am elated!!
– maggs06 on RealSelf

Reach us online or give us a call to schedule a consultation
MONALISA TOUCH HELPS RESTORE GYNECOLOGICAL HEALTH.
THAT'S SOMETHING TO TALK ABOUT.
MonaLisa Touch is a registered trademark of DEKA M.E.L.A. Srl – Calenzano – Italy. Cynosure is a registered trademark of Cynosure, Inc. ©2015 Cynosure, Inc.